Kõrvemaa Nordic Baltic Endurance Championship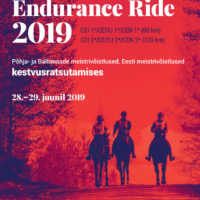 The Kõrvemaa Nordic Baltic Endurance Championship will take place in Kõrvemaa Nature Reserve in Northern Estonia at the Kõrvemaa Hike and Ski Center. The competition place is located 60 km from the port of Tallinn and 110 km from the port of Paldiski. We have been organizing endurance rides at Kõrvemaa since 2011.
28 June will be held 50CEN, 80CEN and CEI1*
29 June – CEIY 1*, CEI2*, CEIY2* and EMV Juunior, EMV Seenior
This video gives you a nice idea of the beautiful landscape at Kõrvemaa
https://www.facebook.com/…/vb.1000017281…/1888916447842610/…
Accomondation
http://www.janedaturism.ee/en
There are only 12 dbl rooms available. Best way is to send quicly email.
http://aegviidupuhkebaas.ee/kontakt/
There are many rooms availble. 2dbl room is 32eur. 3person/room 45eur. Please send email. There is only cash.
If you wish, it is possible to camp at the venue. We will specify the information in May about the exact place, price and possibility to use electricity.
Boat tickets